I have edited together this video of Natalia from the internet series Amanda O. She is wearing a stunning black dress of unknown material (it looks a little to loose to be latex).
On closer inspection, I think it might be the same dress shown in this photoshoot
http://forums.kinkyg.com/viewtopic.php?t=5042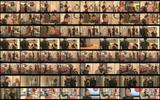 [youtube]http://www.youtube.com/watch?v=ntyqNj6yc3o[/youtube]
For some reason these thumbnails came up larger than the others. I don't know if they're still ok as they are larger than the regulation ones, although they are of low file size. I just didn't want delete them as they show the dress so well!!