URGENT ALERT Read bottom of page before Dec 26
They are airing this show on the CW Network ( the network co-owned by Paramount and Warner Brothers ) for the summer hiatus. Something called Penn & Teller: Fool Us, hosted by Jonathon Ross. The two magicians sit in the front row of a theater and watch European magicians perform tricks. They then attempt to guess how the trick was done. If they can not figure the trick out then the magician wins a trip to Vegas to perform on stage with Penn & Teller. This is a show I would have never bothered watching, except that in America most of the regular programs go on a five month hiatus between April and September where no new episodes air. It was a show I DVRed and casually watched on the weekend.
Then two weeks ago I was surprised and delighted to catch an episode with a female magician who dressed in latex. She went by the stage name Laura London. Here are the few images I could find of her wearing the same outfit.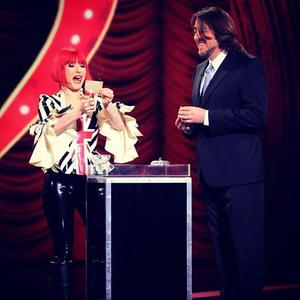 Also, if you want to see a video of her performance, here it is the episode on the CW website. It is the third segment in.
http://www.cwtv.com/cw-video/penn-telle ... 5826a3029c
Now, here is why this has ended up on the request page. I had fully intended to preserve her performance in my own archive. I had set aside an hour that weekend when I could bring the DVD recorder attached to the television in my room to the DVR in the downstairs room that the show was recorded on. But that Saturday when I searched for the show, I discovered that the DVD had auto erased it. Some time during the past month my cable company updated the DVR program, and that included presetting the machine to erase past episodes of shows the day the new episode is recorded. It was gone, replaced with the next episode. I checked my In Demand service, but it did not include Fool Us. My last resort was seeing if Penn& Teller's fans had uploaded the episode on a pirate site. They did. The problem was that this particular show is THREE YEARS OLD. That's right, the CW purchased the U.S. broadcast rights three years ago, and had only gotten around to airing it this past summer. The episodes on the pirate sites were no longer seeded. The only hint of the show I could find was the CW website. But I have not been able to get my Stream Transport recorder to work in well over a year, even with all the updates. It crashes as soon as the episode begins.
So, perhaps there is someone here who did record this series and does not realize thew gem they have. Or perhaps there is someone with a streaming video recorder that works.
P.S. Here is a bous pic I found. Different outfit.