This is an extension of the Music Videos for Academic purposes thread.
Some people here, me included, have dredged various music video forums - "Uncensored", "Russian" - whatever. Although these websites have good thumbnails, you can never
hear
the music unless you expend a bit more bandwidth, and download something that was non-target. Occasionally, you download something that you thought was on target, but it just doesn't pass the custard. Sometimes, shock, horror, the music is really good, but the visuals are useless. The problem you then have is
filing
this video, because you don't really want to mix it in with the rest. Eyebrows would be raised if some good music, or conventional porn entered your collection.
This is a thread for music videos that you can't file anywhere, but think need to be seen. I'll start it with
Micronauts - Reaction
, and you will understand what I mean.
http://www.megaupload.com/?d=9H6KA3Y7
and
Julien K - Kick the Bass
(this is a censored version on youtube, but you only want the censored version for the kick-arse music.)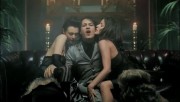 http://www.megaupload.com/?d=NHMRA6T5
(40MB)
Look, there is probably some fetish in this video, if you can spot it through the naked women, but it's all a bit distracting.